Coins for kids campaign
Our projects
Who we support
We have supported children locally in Luxembourg and abroad since the year 2003, through a wide spectrum of projects both in Luxembourg and abroad. The support is usually financial, for practical, tangible projects or by giving our time. Until early 2023 this amounted to financial support of over 190 000 €.
How we ensure funding is used correctly?
Our financial support goes to recognised, well-established charities, organisations and NGOs. The projects chosen are usually for something 'physical', e.g. school classrooms, wells, equipment, etc. Representatives of the organisations are in the field, so we ask for news, photos and make checks.
A representative has to visit the club before we decide if we will fund and to what extent. We do not fund salaries as this is more difficult to control. We feel we can have more impact for a specific project if we provide material needs, as salaries are usually covered by other funding, e.g state subsidies.
How we fund?
Projects are funded through our fundraising campaign, Coins for Kids. We have also been supported by companies in Luxembourg by some financial sponsorship or practical help.
---
Important or recently supported projects
A full list is available in the section "previous projects"
History of Coins for Kids
How it all began?
Just like the magic year 2000, we witnessed another historical moment with the arrival of the euro, adopted by most European Union countries as new and single currency.
The result created quite some attention as one can see from the attached news articles.
Obsolete coins
Some of us stashed away the odd coin for showing our (grand)children some day. But did we really want to keep all of those coins left over from vacations, cluttering up purses, wallets and a variety of other containers? Many of these coins became obsolete on 1 January 2002.
Hidden treasure
It was this that sparked off the idea of putting these (foreign and Luxembourgish) coins we had in our pockets or in some old drawer to good use and save them from becoming mere relics of the past.
Lions Club Luxembourg Erasmus used this memorable event in European history to launch what it hoped would become a continuing success: a large-scale collecting of coins as part of its Coins for Kids project.
Children's organisations benefit from donations
The purpose of Coins for Kids is to donate the entire proceeds to well-chosen national and international charity organisations whose projects aim to help needy children.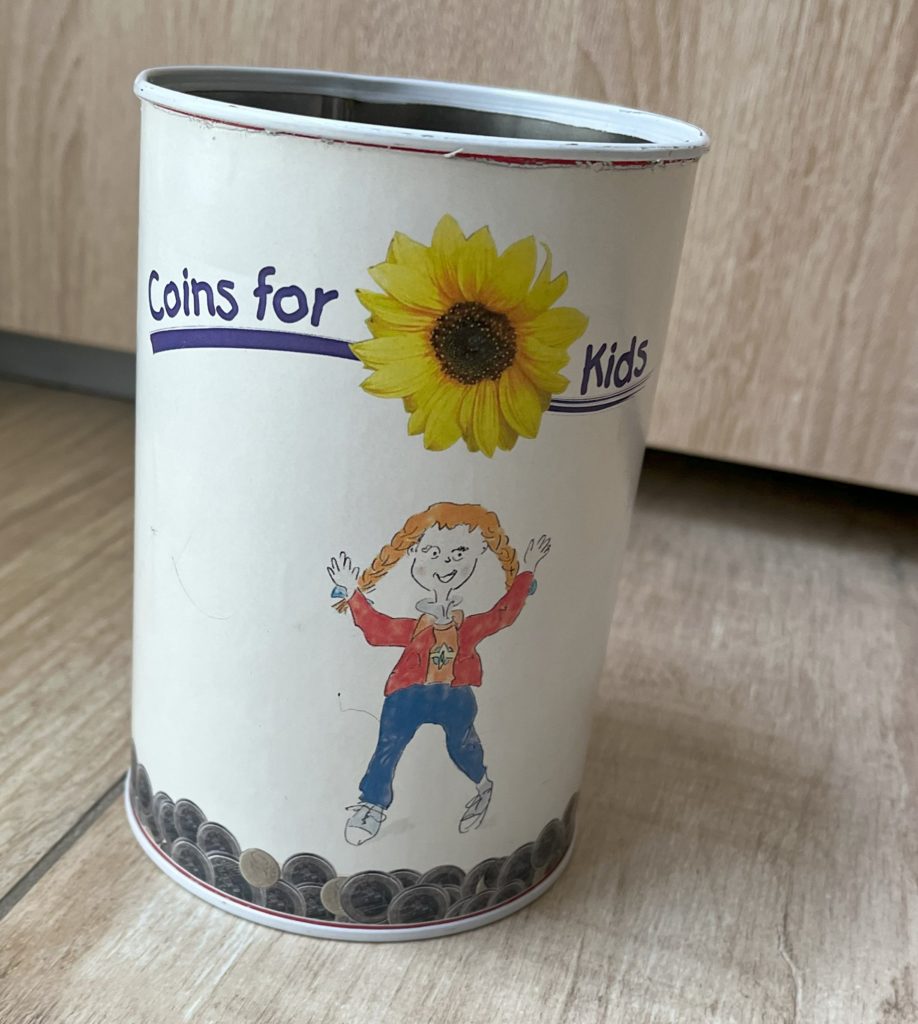 Collection Tins
In many places throughout the country, Coins for Kids tins have been prominently placed in shops and business for visitors to donate coins. Why not support children in need and provide tins for your organisation, business, shop or family? Visit our contact page !
Schools participated in campaign
In addition to the collection boxes, Lions Club Luxembourg Erasmus organised a nationwide contest for schools. The schools that collected the greatest weight in coins per pupil won valuable prizes. 70,000 euros were collected and donated to children's projects.
Many helped make the Coins for Kids project a huge success. On behalf of all the kids who benefited and will benefit from this project: thank you for your coins!
We are still collecting
Coins for Kids 'euro' tins are still scattered across the country, but are now for small (or big!) euro coins.
To date, over 138,000 euros have been collected and donations made to children's organisations in Luxembourg and abroad. If you would like a collection tin, send us an email.